**Blogger's note: Sadly, in January of 2010, Miep Gies passed away.

You can read the Washington Post's tribute to her life here

. I think a quote from her sums up her legacy better than I ever could:




"We did our duty as human beings," she said. "Helping people in need."

Below is the post I made in February of 2009, a year before her death. I'm so glad that I heard her story and was able to, in a small part, share it with the world before her passing.



I hope "The Diary of Anne Frank" is still required reading for students -- it's a book that had a profound impact on my understanding of world history, government, war, racism and much more. It was all that AND a good read, which is not always the case.


Anne Frank and her sister Margot, 1933 (AnneFrank.org)


Anne has certainly gotten recognition through the years for her bravery amid terrifying times in the mid-1940s. It's because she took the time to document her family's struggle that we all got a first-person account of the horrors.

But what about "the Helpers," as Anne called them; the men and women who gave the Frank family food, books and more during their two-year isolation in that tiny apartment?

The last surving helper, Miep Gies, just celebrated her 100th birthday -- and to this day, she humbly deflects any attention she herself gets. (Click here to see some amazing videos in which she recounts the Anne Frank days.)

Gies wrote an e-mail to The Associated Press, saying "This is very unfair. So many others have done the same or even far more dangerous work."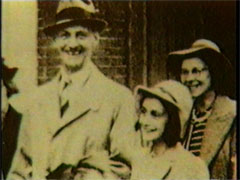 Otto and Anne Frank at the wedding of Miep and Jan Gies (miepgies.nl)





But Gies truly is a hero! She's the one who scooped up all of the papers and notebooks left behind in the attic when the room was raided, locking them up in a desk drawer to wait for Anne to come back.

Of course, that didn't happen. Anne died seven months after the Nazis arrested her -- only two weeks before the German concentration camp was liberated.


A photo taken in October 1945. From left to right: Miep Gies, Johannes Kleiman, Otto Frank, Victor Kugler, and Bep Voskuiji (AnneFrank.org)


Anne's father Otto survived, and Gies was able to give the then-unread papers to him. Otto published it in 1947, and it was translated into English, then re-titled.


The diaries, notebooks, and the loose sheets with Anne's notes and corrections (AnneFrank.org)





Since then, "The Diary of Anne Frank" has gone on to sell millions of copies, and continues to serve as a touching tribute to the victims of the Adolf Hitler days.

Gies told The Associated Press that her husband was one of the unnamed heroes who truly does deserve credit for his work. "He was a resistance man who said nothing but did a lot. During the war he refused to say anything about his work, only that he might not come back one night. People like him existed in thousands but were never heard."

Isn't that a beautiful sentiment? You can read the full article here, and be sure to check out the Growing Bolder videos with Ruth Hamilton, the world's oldest blogger at 109 years old. Ruth died in 2008, but shared with us her stories of world travel, including an encounter with Adolf Hitler in which she got close enough to shoot him!