The 2023 National Senior Games are finally upon us! There will be more than 11,500 athletes from 50 to over 100 years old competing in Pittsburgh, PA from July 7th to July 18th. There will be so many inspirational stories coming out of the 20 different sporting events, all showcasing the benefits and joy that organized sports can bring to our lives. Here are a few of the top stories to watch unfold at the 2023 National Senior Games:
Riding For His Life
Cyclist Simeon Gipson, 77, first started riding his bike to improve his health and wellbeing. After being diagnosed with diabetes, Gipson changed gears and lost nearly 100 pounds thanks to his work on two wheels, riding more than 1,000 miles per year through Cherokee lands. He won't just be riding at the National Senior Games, as Gipson plans on pedaling more than 1,400 miles on his bike to make the trip from his hometown of Tahlequah, OK to Pittsburgh, PA for the start of the games. He hopes his journey will send a message to others about the importance of exercise and physical activity.
Madonna Moving Forward
Madonna Hanna, 70, is a Washington state champion sprinter in the 100m and 50m events. She didn't get started running until 2011 when, at 57, her late husband Steven began coaching her and entered her into the senior games. After a battle with cancer, Steven passed away, but not before urging Madonna to continue on her fitness journey. She kept running and found a new coach, an Olympian named Marcus Chambers, who has shown her the strength of self-belief in the pursuit of her goals and taken her physical capabilities to a new level. In their time since, Hanna has racked up plenty of medals and will be looking to add to her resume at the track in Pittsburgh.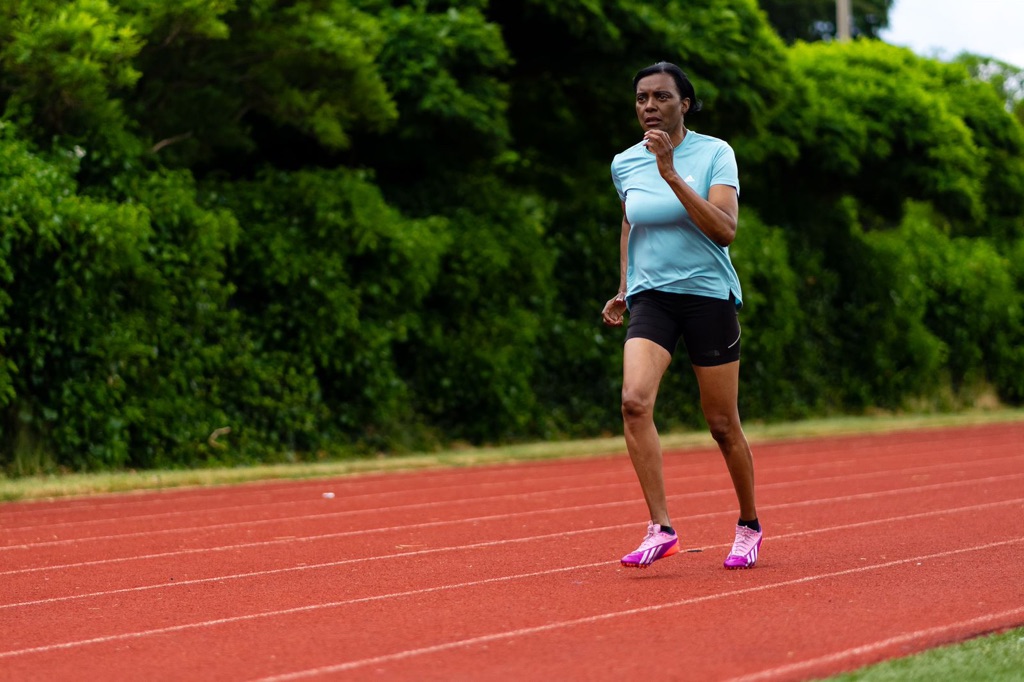 Hometown Hero
Jack Eckenrode, 95, loves to cycle, to run and to compete in the National Senior Games. He earned five gold medals at the 2022 NSG and is likely to be the center of attention when the Games return to his hometown of Pittsburgh in July. He'll be competing in cycling and track and field again, with his 12 children, 41 grandchildren and 61 great grandkids cheering him on. Click here to listen to Eckenrode on our Fountain of Youth podcast.
An Olympian At The Table
The beauty of the National Senior Games is that it is never too late to get in the games. You don't have to be a world class athlete your whole life, and in fact, more than half of NSG athletes don't even start competing until they are in their 50's. But this isn't the case for Lily Yip, who is in a class of her own. The 60-year-old is a Hall of Fame table tennis player who competed on Team USA in the 1992 and 1996 Olympic Games and won four medals in three Pan American Games. She will look to add to her world-class resume with more table tennis medals in Pittsburgh.
Centenarian At The Center Of Attention
While every athlete who competes at the National Senior Games serves as an example to others, the oldest athlete to compete at each event understandably garners special attention. At the 2023 National Senior Games, E. Gerald Meyer, 103, will hold the honor of being the oldest competitor. While he didn't compete last year in Fort Lauderdale, Meyer notably took home four gold medals in running events at the 2019 National Senior Games.
A Mother-Daughter Bond
Clara Satterfield, 95, and her daughter Evelyn Wilson will show off the power of a mother-daughter bond at the 1500M power walk competition. This South Carolina pair first competed together at the 2022 National Senior Games in Fort Lauderdale, with Clara earning gold, and more importantly, noting that power walking has lowered her blood pressure. This heartwarming duo will be back in Pittsburgh to match strides once again.
Record Streak Continues
George Freeman, 91, and Roy Englert, 100, are the only two athletes to participate in every single National Senior Games competition. Both men will compete in Pittsburgh, extending their record streak for another year. Since the first ever NSG in 1987, Freeman has competed in track and field, golf, and shuffleboard over the years, but now his focus is on bowling. Meanwhile, Englert is a runner who has broken several world age group records over the years, and plans on competing in the 100-104 year old group at the track in July.
Bridging Champions Through The Ages
The theme of the 2023 National Senior Games is "Bridging Champions Through the Ages," a hat tip to the 446 bridges in and around the city of Pittsburgh. While there will be athletes of all ages at the event, perhaps no family best exemplifies this theme like Dwight Smith, 94, son Terry Smith, 72, and Dwight's granddaughter Christi Daigle, 50. This trio makes up the first known three generation athlete family to compete in the same National Senior Games, participating in basketball, pickleball and swimming.
For more stories from the National Senior Games visit GrowingBolder.com/NSGA