There is a common ageist belief that rapid physical decline is a normal part of aging and we're all destined to become weak and frail in old age. This is a damaging myth that athletes in The National Senior Games are rapidly disproving. It's not a given that we'll inevitably lose flexibility, muscle mass, bone density and cardiovascular fitness as we age. There is mounting evidence that performance loss is mainly due to an inactive lifestyle, not biological aging. In many cases we can get faster, stronger and more flexible as we age. The deciding factor is regular exercise.
Roy Englert
Roy Englert continues to set new records in the sport of running. One of the oldest competitors at the 2022 National Senior Games, Roy is one of just two athletes to have participated in every national event. He never considered himself athletic until he decided to enter his first competition at age 60. That was 40 years ago. He prefers distance events, saying he isn't much of a sprinter, and over the years he has broken several world age group records. Since he will turn 100 in September, he is now competing in the 100 – 104 age group.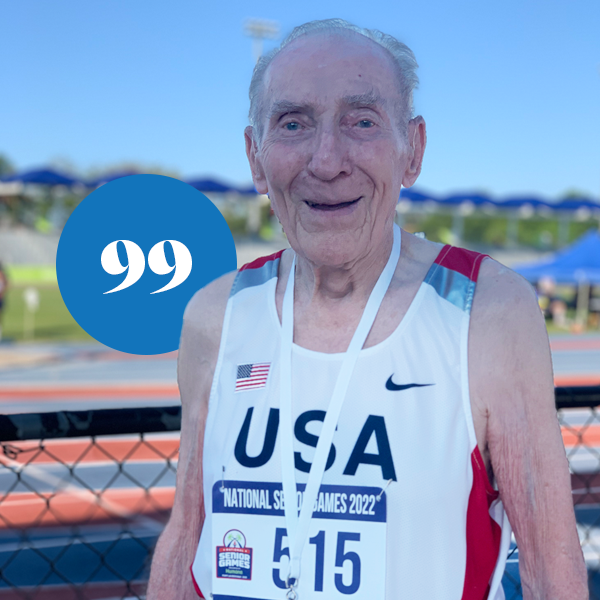 "When I entered my first games everybody wondered what in the world I was doing. Even my mother said, 'you're too old to run,' and that was 40 years ago. I'll be 100 soon but to me it doesn't feel any different. You have to keep moving, keep going as far as you can, that's what I do. And you don't have to like it. I don't like running, but I really like finishing!"Roy Englert
Lindsay Tise
The oldest competitor at the 2022 National Senior Games was 103-year-old Lindsay Tise. He was the only golfer in the 100+ age group, shooting rounds of 58, 58, and 61 at Country Club of Coral Springs. Although he won the gold medal just by showing up, don't let Tise's age fool you, he shoots a score lower than his age almost every time he tees it up. Tise plays fast, still maintains a solid swing speed and has a delicate touch around the greens. He believes the health benefits from playing golf have extended his life into his 100s.
"I just enjoy being out with people, out in the open and I just enjoy playing. It's helped to keep me going, helped to keep me healthy. As long as I can hold a stick, I don't plan on quitting."Lindsay Tise
Charlotte Sanddal
Charlotte Sanddal retired at age 72 after long career as a social worker. She was determined to stay active and enrolled in swimming lessons for the first time in her life. That was nearly 30 years ago. At 100, Charlotte was the oldest swimmer at the National Senior Games and one of the most inspirational. She now holds dozens of national and world age group records and just started swimming butterfly because she wants to set the world record in the 100 yd individual medley — a race that combines all 4 strokes. When she's not swimming, Charlotte loves to travel, play bridge, go kayaking, and volunteer at the Montana Historical Society.
"I've outlived all my ancestors and I owe it to swimming. Swimming gets me up in the morning. I do my stretches and my exercise, and then I get to the pool. That's what's good about swimming. You ever have to quit. you can keep going and you meet people from all over. It's a good way to spend your time and it keep me out of the bars."Charlotte Sanddal
George Freeman
The first National Senior Games were held in St. Louis, MO in 1987. George Freeman was there and is the only other person besides Englert who has competed in every competition since. A multiple Boston marathon participant, Freeman mainly competed in track and field, but added golf, and shuffleboard in recent years, and bowled in the 2022 Games. One of his daughters was a schoolteacher so he gave all his medals to her to give her students on special occasions. Despite having not traveled in over two years because of Covid, the 90-year-old was determined to be in Fort Lauderdale and already has his sights set on Pittsburgh in 2023, so his east coast-based
family can come cheer him on.
"The beautiful part is my great grandchildren. They think it's super and they're all runners or walkers and they're all involved in athletics. They can see I probably do't look as old as most 90-year-olds and I'm setting a good example I think for them, which is you do something in life."

George Freeman